Virginia MOCA has reopened with restricted hours, timed ticketing, and carefully planned social distancing and sanitation practices. Every 30 minutes, 10 patrons can enter the exhibitions where they will follow a set path through the Museum. 
FEBRUARY 6 – JUNE 6, 2021
To nourish is to provide the food necessary for growth and health. It also means to listen, care, and support one another, our community, our land, our minds, our society, and our futures. Nourish will debut newly created artworks by twelve artists inspired by local food experts. Each artist and food expert team explored the possibilities at the intersection of food and art. The experts, who came from a broad range of occupations including farmers, chefs, nutritionists, writers, food justice and antihunger advocates, and more provided unique insight into the food culture of our region, the inspiration source for the commissioned work on view.
The exhibition and related educational programming encourage members of our community to forge new connections with each other and to gain a greater understanding of the challenges of filling our plates.
Filmmaker Jeremy Bates is creating a documentary to accompany this exhibition. Bates, along with Alison Byrne, Virginia MOCA Deputy Director, Exhibitions and Education, and Virginia MOCA Curator, Heather Hakimzadeh, has followed all twelve pairs through their process: learning each other's stories, exploring bees, oysters, and farmland, the creation of the artwork, and ultimately the installation of the exhibition. "My passion for creation drives me," said Bates. "The subject matter and creative people involved with this project are ripe for making a great film. I can't wait to share it with everyone."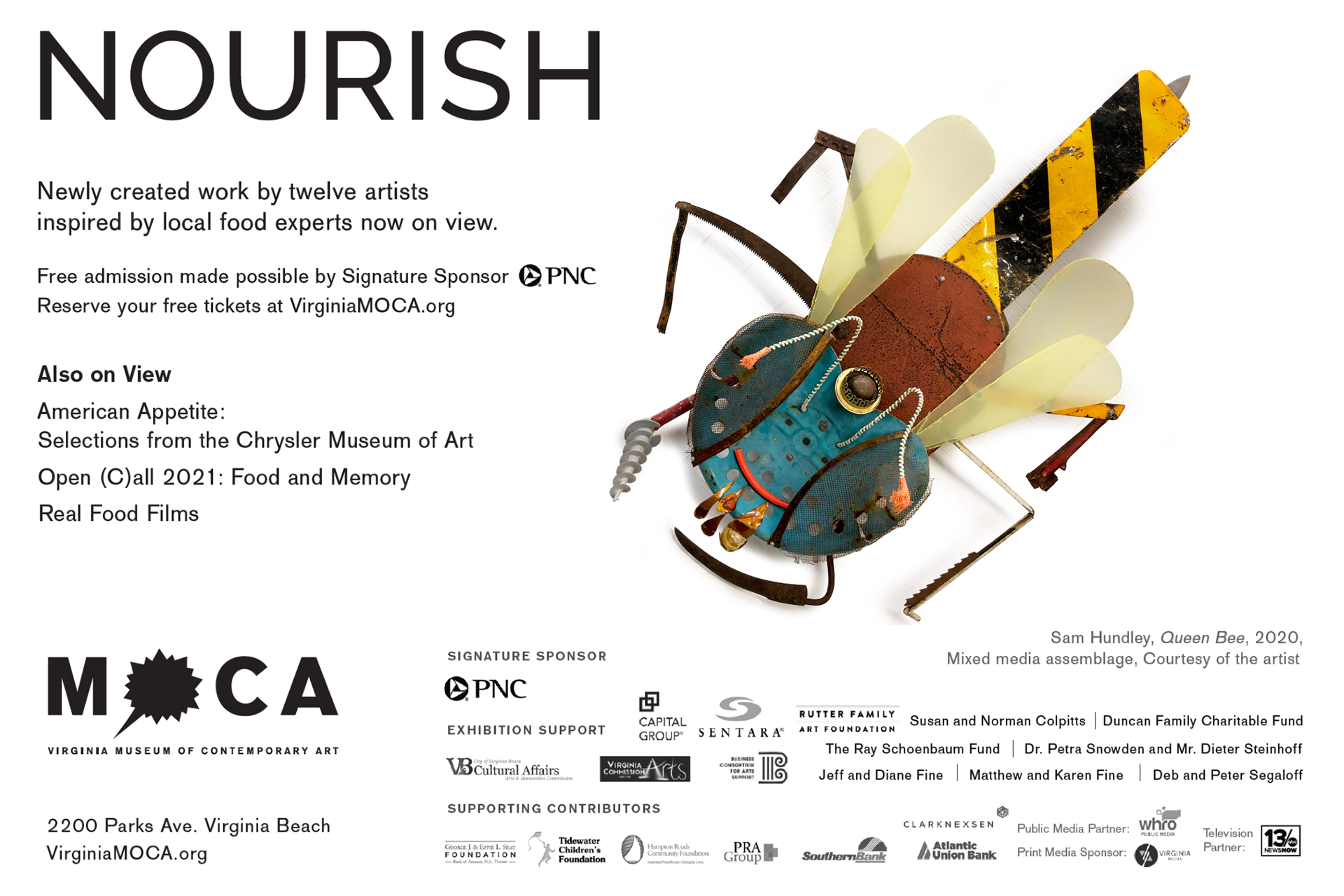 The Virginia Museum of Contemporary Art is a non-profit institution which exists to foster awareness, exploration, and understanding of the significant art of our time.  Through excellence and diversity in our changing exhibitions and educational programming, MOCA stimulates critical thinking and dialogue throughout the Hampton Roads community.