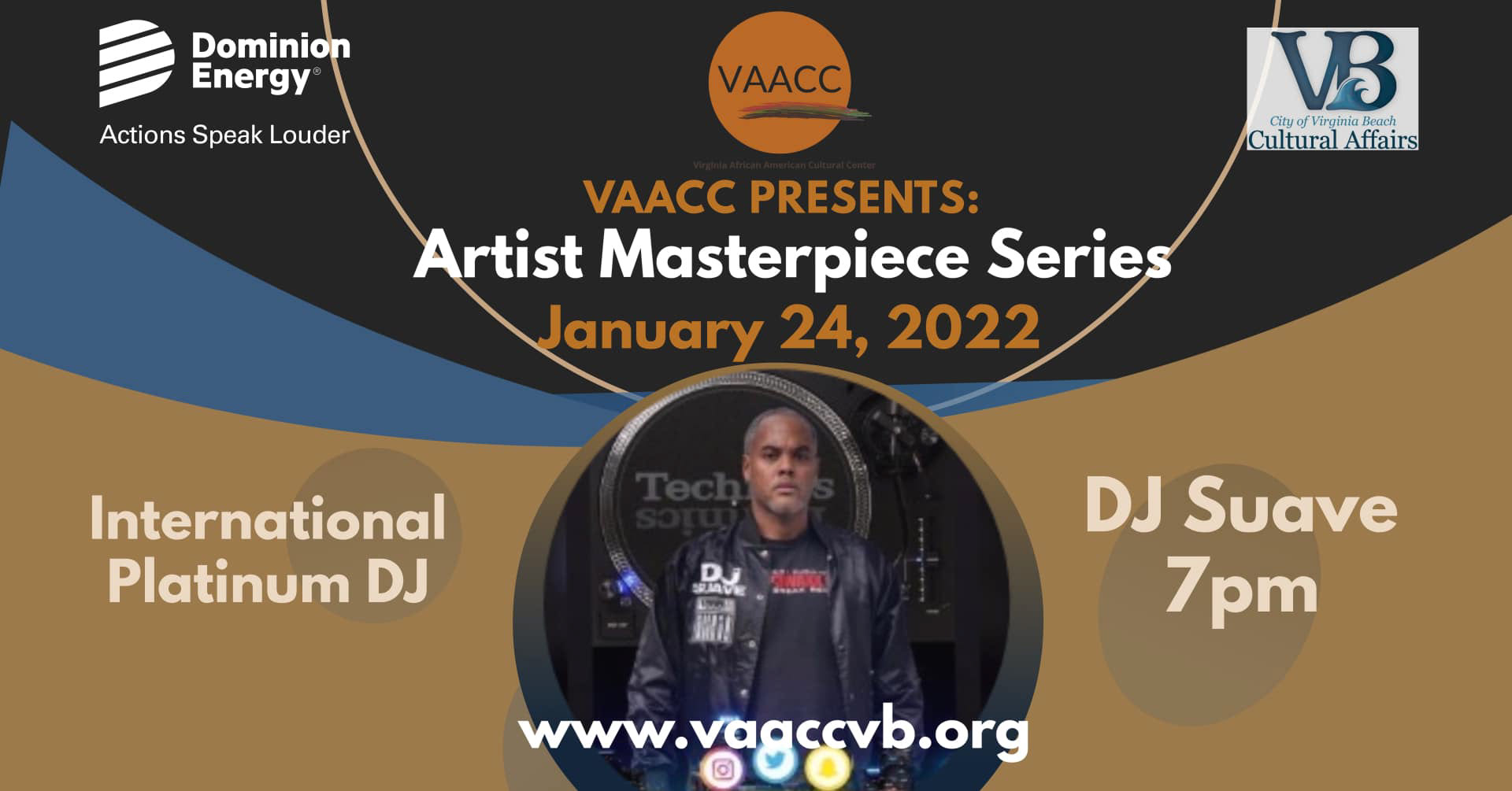 VAACC continues its exciting virtual Six-Part Artist Masterpiece Series featuring renowned artist, DJ Suave on January 24th at 7pm. The event features a moderated interview discussion by host DDG with the artist DJ Suave reflecting on his career and profession arts experience, a Q&A with the audience and sample performance videos. Viewers must register in advance online at

HERE

for this free, virtual event hosted in part by Dominion Energy and the Virginia Beach Arts & Humanities Commission.
Multi-Platinum holder DJ Suave is a Hampton University graduate and an Open Format DJ from Virginia Beach. He is a member of the MP3 Wax DJ Coalition owner of Red I Entertainment, has an online radio show, Tunnel Vision and is an international DJ. He has performed at the South by Southwest festival, the National Greek picnic in Atlanta and Texas, international venues such as Mexico, Puerto Rico, and the Dominican Republic, and recently at the Funk Fest in Orlando, Florida.
The Artist Masterpiece Series consists of free, virtual events that focus on alternate career paths within the arts. The goal is to educate the public in professional career paths from artists who successfully work behind the scenes and achieve notoriety.  The series began in October 2021 and continues through June 2022. Each artist will share their expertise from concept to successful completion in their chosen medium through conversation, demonstration, and performances. Viewers can participate in a live Q & A with the artists. To register visit our website at

vaaccvb.org

or

info@vaaccvb.org
APRIL 9, 2022:  Rebecca Gaines, aka Beck G., a Norfolk native and winner of the Teddy Riley's Talent show held in VA. She currently hosts the Wu Word Radio Talk show and Co-hosts Vinyl Word.
MAY 19, 2022: Morgan Avery McCoy, an author, actor filmmaker, and supporting actress in the Award-winning film, " Harriet."