COVID-19 Update (updated 3/19/2020 at 12pm)
We always strive to provide a welcoming and safe environment at Little Theatre of Virginia Beach. Due to the rapidly evolving COVID-19 crisis response, we are taking additional steps to protect our patrons and volunteers:
An American Daughter:
An American Daughter: performances scheduled for March 20 through April 5 are rescheduled to May 22 through June 7. 
The Taming of the Shrew:
We have cancelled all scheduled performances of The Taming of the Shrew and will look to reschedule this popular Shakespeare play to dates in the future.
Patrons who purchased tickets or redeemed season passes for An American Daughter or The Taming of the Shrew will be contacted to reschedule to a performance of An American Daughter and to review all of your ticketing options.
We encourage all members of our community to stay informed and follow all CDC guidelines for staying healthy. We continue to recommend that those who are sick or members of a vulnerable population remain at home.
LTVB continues to monitor conditions related to the COVID-19 virus. We are following city and state health department guidance regarding how to proceed with our programming. As the situation develops, we will provide clear updates on our website, social media and through email communications of any changes. 
Thank you for your patience and continued support,
Little Theatre of Virginia Beach Board of Directors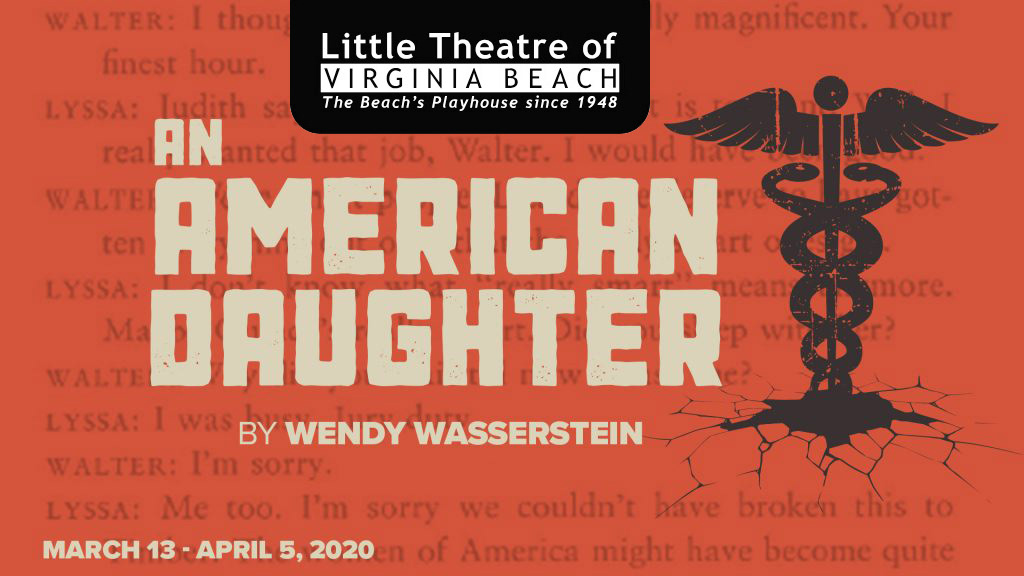 An American Daughter by Wendy Wasserstein brings us the story of Dr. Lyssa Dent Hughes, an accomplished professional and privileged daughter of a Republican Senator. When the President nominates Lyssa to Surgeon General, the media discovers a past indiscretion and quickly turns it into a scandal, putting her confirmation at risk and dividing her family and friends. More info
Fridays and Saturdays at 8pm, Sundays at 2:30pm